| | |
| --- | --- |
| Pair Trade: Long | |
07-16-2010, 02:52 PM
Junior Member

Join Date: Jun 2010

Posts: 2
Pair Trade: Long
---
Pair Trade: Long GS, Short JPM
Fundamental Commentary
The Goldman Sachs Group, Inc. (GS)
The Goldman Sachs Group, Inc., a bank holding company, is a global investment banking and securities firm specializing in investing banking, trading an principal investments, asset management and securities services. The Company provides services to corporations, financial institutions, governments, and high-net worth individuals.
Yesterday Goldman announced that it had agreed to pay $550 million - the largest penalty ever imposed on an investment bank - to settle civil fraud charges over its incomplete disclosure to investors who lost billions of dollars as a result of collateralized debt obligations. The settlement resolves Goldman of all SEC inquiries into its conduct regarding the CDOs, including the fact that it failed to disclose that hedge fund manager John Paulson was on the short side of the same CDOs that Goldman was selling to its clients. The settlement also agrees that Goldman neither admits nor denies any wrongdoing in the matter. Nonetheless, Goldman has since acknowledged that they made a "mistake" and "regret" the disclosure omission.
Analysts reactions to the settlement for the most part have been positive. On CNBC yesterday there were price targets given between $175 and $200. Here's what Dick Bove had to say on CNBC yesterday:
"I think that Goldman Sachs is one of the best companies ever created in the United States. It really understands its businesses and that it operates them properly. And if you believe that money supply over time constatnly goes higher--and money of course is the raw material of thsi company--then you have a company whose raw material continues to grow, who handles that raw material better than any other company in the world, who ultimately is going to benefit by the expansion of the world financial system. Why wouldn't you want to own that stocks?"
The market also reacted positively, sending Goldman's shares as high as $155 in yesterday's after hours trading. Since late April, the stock had been pricing in significant SEC penalties and civil litigation dinging Goldman's earnings - but this announcement, in larger part, removes that significant risk.
Merill Lynch upgraded its rating on Goldman Sachs to "buy" following the agreement yesterday.
Some analysts have pointed to the fact that Goldman's business will no longer be the same as a result of this settlement. The creation of a "business standards committee," which will conduct an extensive internal investigation, will examine everything including conflicts of interest to product suitability and will made the findings public after a Goldman board review. I personally don't believe this will lead to any extraordinary changes in Goldman's businesses, but I leave that up to you.
The SEC fine represents 14 days of Goldman's daily earnings. Projections should be updated accordingly.
Goldman is set to report next week, along with Morgan Stanley.
JPMorgan Chase (JPM)
JPMorgan Chase & Co. provides global financial services and retail banking. The Company provides services such as investment banking, treasury and securities services, asset management, private banking, card member services, commercial banking, and home finance. JP Morgan Chase serves business enterprises, institutions, and individuals.
Yesterday JP Morgan posted a 76% increase in Q2 earnings Thursday. Net income came in at $4.8 billion. At first glance, these numbers looked pretty good: a profitable company that beat analyst expectations. However, delving into the earnings report showed some less than impressive "highlights."
Revenue beat estimates largely in part to a $1.5 billion reserve reduction (money set aside to cover bad loans). Weaker investment banking and trading revenue also weighed in on the revenue, which was actually less quarter-over-quarter.
(in thousands) Q2 10 Q1 10 Q2 09
Revenue
Investment Banking 1,405 (41) (834)
Fixed Income Markets 3,563 (1,901) (1,366)
Equity Markets 1,038 (424) 330
Credit Portfolio 326 379 901
Total Revenue 6,332 (1.993) (969)
Net Income 1,381 (1,090) (90)
Analysts mostly responded negatively to the earnings report:
'On the whole, this number is not a good number.....it's here because they've taken $1.5bn out of reserves and put it into earnings......Trading was devastating'. (Doug Kass, Seabreeze Partners Management)
'It's been a tough environment to trade, and we're still concerned about the investment bank'. (Dick Bove, Rochdale Securities)
Jamie Dimon, JP Morgan's CEO, sounded a little gloomy on the conference call.
On the earnings:
"Although we are gratified to see consumer-lending net charge-offs and delinquencies decline, they remain at extremely high levels and therefore returns in our consumer-lending businesses are still unacceptable. As a result, these businesses did not meet expectations nor generate satisfactory returns on capital for our shareholders. It is too early to say how much improvement we will see from here."
On financial regulation:
"We recognize a number of positive aspects of the pending regulatory reform legislation, including systemic risk oversight and resolution authority. However, many challenges and uncertainties remain which may result in unintended consequences for our clients, the markets and our businesses. With a need for global regulatory coordination and hundreds of rules to be written, increased focus is critical in order to implement these reforms in a way that protects consumers and the competitiveness of the U.S. financial system, while ensuring the flow of safe and sound credit. As always, and regardless of uncertainties about the credit environment and pending regulation, we remain committed to the long-term growth of our franchise. We continue to invest in our infrastructure to enable us to deliver the quality products and services that our customers demand, and to provide good returns for our shareholders."
On discussing financial regulation decreasing revenues for financial firms, Dimon said that it is likely that consumers will end up paying more for services. He hinted that free checking and low credit card fees will likely come to an end as banks look elsewhere to make up for lost revenue.
"You know, if you're a restaurant and you can't charge for the soda, you're going to charge more the burger. My guess that over time it will all be repriced into the business." I tend to agree with Dimon here. Banks are not about to forgo the lost revenue as a result of financial regulation, they will just find other ways to do it. For retail customers who enjoy free checking, low credit card rates, and other financial services - expect some changes in the way you bank.
Statistical Commentary
Take a look at the graph of the pair below.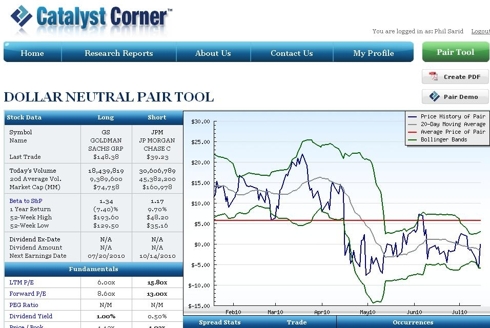 We may have missed the first leg of this up pair - but there is still room. Looking back in late March/early April, I don't think it's unreasonable to expect this pair to return to similar levels, especially if the $550 million fine is the last we hear about Goldman the SEC.
The pair is currently trading 1.50 standard deviations from the mean, which puts it in the 20.91% percentile.
Our Pair Trading Tool puts the target move at 8.77%.
If you believe in the principle of mean convergence, it is reasonable to expect that this pair will return to a level more in-line with the mean.
Good luck! If you'd like to see the full version of this pair, visit our Pair Tool (completely free) and gives a really nice statistical, fundamental, and graphical output.
Happy trading,
Phil
phil@catalystcorner.com
__________________
The graphical representation of any pair I post was generated from the Pair Trading Tool at Catalyst Corner.
Catalyst Corner
is a financial website that provides in-depth researchs on comapnies with significant milestones or "catalysts" coming up in the near-term.
Disclaimer: The information disseminated by Catalyst Corner("Catalyst", "us", or "we") is for informational purposes only, and is neither a solicitation to buy nor an offer to sell securities. We do not undertake or purport to render any investment advice or recommendations for the buying and selling of securities.
08-11-2010, 03:39 AM
---
In today's world the trading industry has become quite vibrant. The way the things have been going these days, it is impossible to think what would happen the next day, the big companies like The Goldman Sachs Group, do have a very good role to play in these situations and a lot depends on the outcome after the transaction of such a large amount.
Currently Active Users Viewing This Thread: 1

(0 members and 1 guests)
Posting Rules

You may not post new threads

You may not post replies

You may not post attachments

You may not edit your posts

---

HTML code is Off

---
All times are GMT -6. The time now is
01:19 AM
.